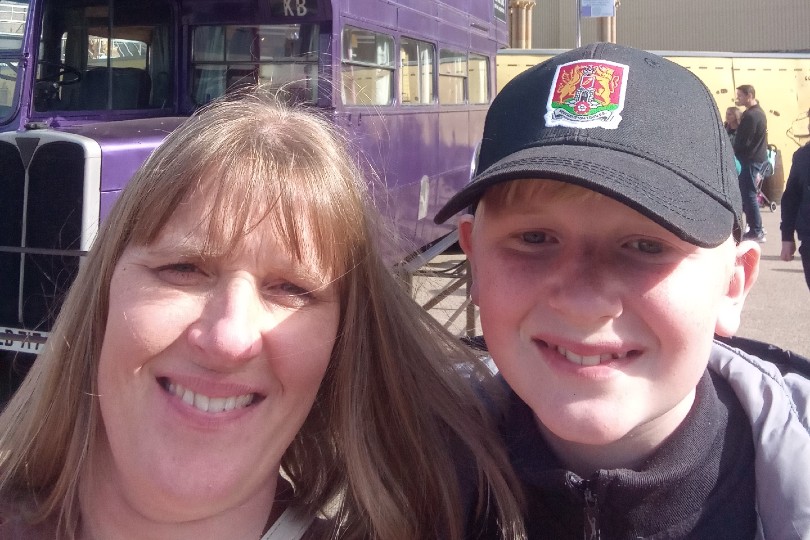 TTG – Features – Agent Diary: Susan Dearing of Designer Travel
Features
Jul 28, 2022
by Charlotte Cullinan
The associate saw her business surge in June as she celebrated 10 years with the work-from-home specialist
---
Charlotte Cullinan
Content Writer
---
Charlotte Cullinan
Content Writer
Susan and her son Ryan visit the Warner Bros Studio Tour – the making of Harry Potter
This year marks a decade since I joined Designer Travel. I started in the travel industry 23 years ago, and it's the best place I've ever worked.
I work from my home in Northampton and this month as always most of the bookings are from repeat customers and referrals. Guests tell their friends that I arrange their plane seats and boarding passes and email their hotel to get something more inclusive. These things make it special and they see the value of booking through me.
Positive changes
Business is definitely picking up and customer confidence is growing. Baggage issues at the airport and flight cancellations haven't helped, but I'm dealing with them as I go because I'm here to help my clients.
Bookings have been mixed this month. The Canary Islands and Greece have been popular recently and durations are getting longer as most bookings are now for 10 nights or more.
An exceptional booking took place in June, when I chartered a boat for four clients with Explore Montenegro, sailing around the Adriatic.
I received an email from the operator with a massive discount and suggested it to customers wanting something a little different.
I also sold more cruises, which we are focused on as a business. Thanks to the Cruise Designers project, I do a lot of online training and recently had lunch with Norwegian Cruise Line in London which was really informative.
I also booked my first cruise. In August 2023 I am sailing to Europe with P&O Cruises with my son Ryan and my parents.
The support of her colleagues helped Susan through a difficult few years
Travel Champions
In March, Designer Travel was named Top Luxury Agency and Top Homeworking Agency in the TTG Top 50 Travel Agencies 2022, and our Ramsbottom store was named North West's Top Agency. It was well deserved, because our founders Amanda Matthews and Karen Pocock worked hard.
In June, I joined the TTG Top 50 Champions Trip in Florida, with two colleagues. It was definitely action packed as Visit Florida arranged for us to go to Universal Orlando Resort, Universal's Volcano Bay water theme park and NASA's Kennedy Space Center. I loved New Smyrna Beach which is Florida's second oldest town – the beach is absolutely beautiful.
Provide support
Designer Travel has been incredibly supportive as in April 2019 my eldest son Aaron was 12 when he was diagnosed with a rare form of malignant germ cell tumour. He underwent aggressive adult chemotherapy treatment, but the tumor continued to grow. It was very stressful and in April 2021 Aaron lost his battle with cancer.
We have raised funds for the charities that have supported us, including PASIC, which provides a brilliant support network for children and young people with cancer.
They organized trips for us and a Christmas party. Plus Young Lives vs Cancer, which also helps young people and their families.
Last year Ryan was 12 and he was on a run for his life so I posted his fundraiser link on Facebook and he raised over 1000. It was amazing. Then in February 2021, 200 of us from Designer Travel and a few clients "went around the world" for Aaron, each taking 10,000 steps a day.
Susan, with her sons Aaron (left) and Ryan (center)
Create memories
Before Aaron died, and when we were told he wasn't going to survive, we created a to-do list together.
We thought we had a lot more time with Aaron, and Covid kept us from doing a lot of things. So now we have his bucket list, and I'm working on it with Ryan, in memory of Aaron.
We've been to Wales, Cornwall, Isle of Wight and touring Warner Bros studios – the making of Harry Potter World in Leavesden, everything Aaron wanted to do. Drayton Manor Resort is on the list, and he loved Bournemouth, so we're taking a day trip over the summer holidays. We must also find a way to visit Mauritius.
We know Aaron is pain free and at peace. My philosophy is that he wouldn't want me sitting in the corner crying all the time, but he wants me to live fully. So that's what I'm trying to do.
To donate to the charities that have supported Susan and her family, visit pasic.org.uk and younglivesvscancer.org.uk
Previous post

Create content worthy of a (drag) queen
next article

Top 50 TTG Champions Visit Sunshine State