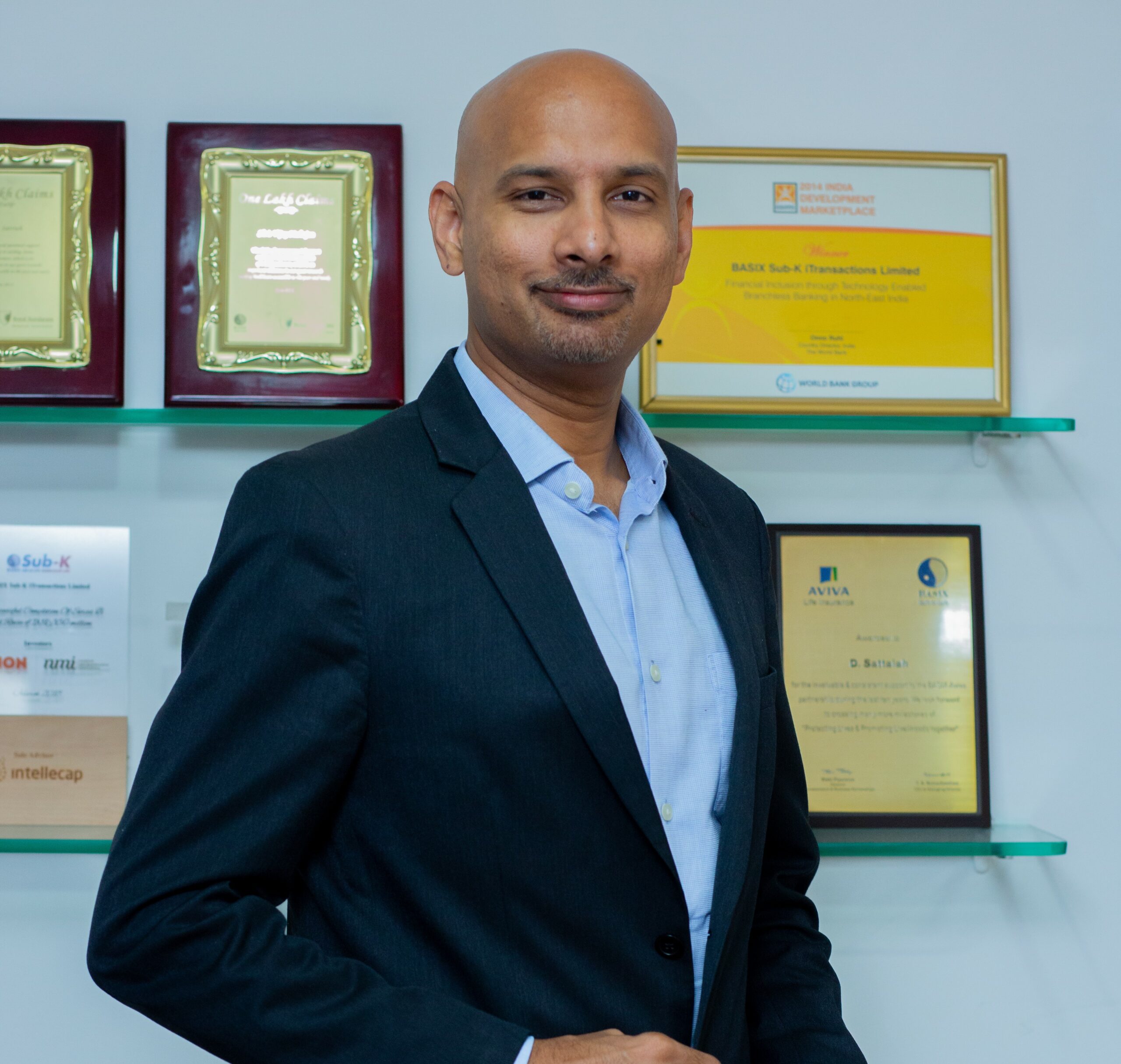 Interview with Sasidhar Thumuluri, MD and CEO of Sub-K
Rural India's FinTech Potential: Interview with Sasidhar Thumuluri, MD and CEO of Sub-K
By Leandra Monteiro
Today
Digital loan
Digital micro-banking
Digital transformation
A good part of the Indian population still lives in rural areas. These rural areas and their population remain insufficiently served by digitization. Compared to the metropolitan areas of India, the rural economy is unstructured and still relies on cash trading.
However, FinTech is rapidly becoming the face of financial inclusion in economically diverse and developing regions in India. Sub-K is one such FinTech that is helping bridge the financial gap between rural and urban parts of the country through digitalization.
In conversation with IBS Intelligence, Sasidhar Thumuluri, MD and CEO of Sub-K IMPACT Solutions Ltd. discusses the potential of India's rural economy for the FinTech industry.
What is the journey behind the launch of

Under

–

K

?
Under–K is an offshoot of BASIX which is a global pioneer in the field of financial inclusion. BASIX was founded by Vijay Mahajan who is considered the father of microfinance in India. With a grand vision of promoting a wide range of livelihoods through comprehensive financial inclusion (savings, payments, credit and insurance), Vijay conceived the idea of ​​leveraging mobile technology and entrepreneurship to democratize financial services.
The focus was on rural areas, women and the poor. Several experiments have been carried out since 2001, when BASIX tried to use mobile terminals and smart cards to increase efficiency and confidence in last mile banking services. Then came the mobile banking and agent banking pilot projects. In the old, mobile vans equipped with ATMs were driven into the hinterland to enable last-mile banking. With increased penetration of mobile phones and connectivity in rural areas, local youth equipped with a basic mobile phone loaded with a lightweight software application and a biometric device were employed as banking agents. The latter turned out to be the most cost-effective and scalable model. With RBI allowing for-profit companies to act as business correspondents, Under–K was launched as one of the first real-time micro-banking platforms in 2010.
What are your

k

What are the product offerings?
Under–K began as a savings-centric model, an entry-point strategy aimed at enabling large numbers of unbanked rural populations to open savings bank accounts and engage in banking transactions base at the village level. A technology platform has been built in-house that can perform real-time banking transactions using a feature phone and facilitated by agents deployed on behalf of the banks. After successfully registering more than one million households as liabilities, microcredit was added to the product mix in response to market needs and thanks to the early experiences of BASIX and its non-profit association. underSidiary Indian Grameen Services. Later, MSME loans and microinsurance were added. Currently, Under–K offers a suite of financial services – savings, payments, credit, insurance and retirement through a Fintech-assisted model.
How do you plan to link the rural and urban population to the banks?
Under–K is building a digital banking platform that will function as a financial services marketplace for underbanked rural and urban households. The aim is to offer a wide choice of products, starting with loans followed by other financial products, and to deliver in the most efficient way through the most convenient Digi-touch interfaces through this platform. We call it SARTHI – Seamless, Accessible, Resourceful and Technology-Centric Hybrid Interface.
SARTHI stands for Charioteer in Sanskrit, indicating the availability of support at every stage of the customer journey. Under–K is therefore being built as an omnichannel Fintech. Under–K pay and Under–K Vriddhi are B2C digital apps that allow customers to easily apply for loans and repay EMIs. Under–K Assist and Under–K Mitra are sales force applications designed to facilitate customer onboarding and servicing by staff and agents respectively. Many other digital tools have been created as part of SARTHI to support seamless customer journeys. The goal is to be a leading and preferred financial services platform that effectively connects the bank to underbanked customers.
What is the potential of India's rural economy for the FinTech industry?
Rural India is the next frontier of growth. Currently, more than 75% of rural households own a telephone and more than 50% a smartphone. The democratization of data is already underway. With the power of phones and data, the rural economy is poised for unprecedented transformation. We are already seeing signs of this shift in a deeper way than expected. One example is how poor rural women repay their microfinance EMIs through apps and QR codes.
In Under–K, the shift happened within 18 months, from 100% of borrowers repaying in cash to 25% permanently switching to digital and 25% switching between cash and digital based on convenience. This trend is phenomenal as this segment is considered the hardest and last to adopt. We predict that 80% of them will choose to embrace digital payments and that at least 50% of them will require fully digital loans in less than 2 years. We are preparing for this deployment.
The potential of FinTech to propel the rural economy is enormous, but it is very important that Fintech companies understand the sensitivities of managing this segment. Their privacy and protection are more critical than in urban areas given low levels of literacy and limited knowledge of redress mechanisms.
What is the pipeline for 2022 and beyond for

Under

–

K

?
2022 would be the year of transformation for Under–K. With Covid-19 hopefully behind us, and all the lessons learned from dealing with the crisis, we are ready to launch our new avatar in full force, previews of which were introduced at our 10-year celebrations in August 2020. Under–K is set to disrupt the industry that its parent company BASIX helped create.
This year, we are testing several ideas in the quest to reinvent microfinance in a fully digital environment through an ambitious project dubbed "ReMiDE" (pronounced Remedy indicating the need to correct traditional business practices). The next phase would be to apply these treatments in the areas of unsecured loans to MSMEs and agriculture, followed by micro-loans for housing and personal loans, the preparations for which are already complete.
In the near future, we will integrate savings, insurance, investments and value-added services into the platform. By 2025, we would have facilitated over INR 10,000 crore in loans and served over 10 million customers, the majority being women and rural residents. Under–K aspires to become India's first truly digital micro-banking platform and expand its success to other developing economies.
ALSO READ: Q1 2022 Wealth Management and Private Banking Systems Report
Previous post
Ria Money Transfer and Dandelion power real-time cross-border payments for Rebtel
Read more