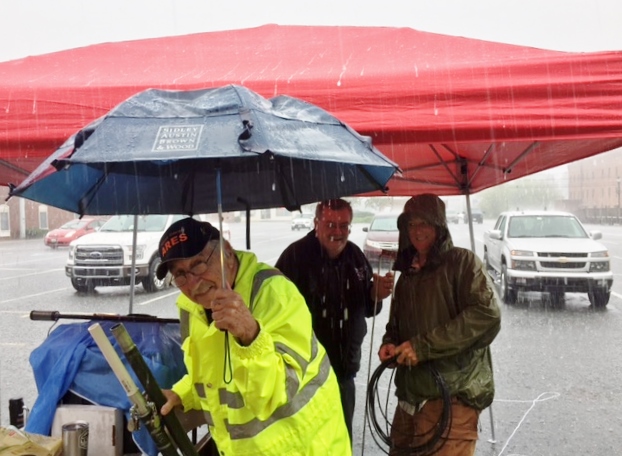 Amateur radio operators support statewide weather emergency exercise
Amateur radio operators across Delaware spent August 12 providing back-up communications for the Delaware state wide-scale emergency exercise. This major exercise was sponsored by the Delaware Emergency Management Agency and simulated a Category 3 hurricane that caused damage and flooding across the peninsula.
More than 75 amateurs, or radio amateurs, volunteered their time and specialized radio equipment to participate in the event.
The hams were stationed at state and county emergency operations centers in all three of Delaware's counties, and at special locations established to provide meals and disaster assistance to mock storm victims. In addition to conventional stations at New Castle, Wilmington, Smyrna, Georgetown, Lewes, Dover and Seaford, temporary stations were installed at Newark, Saint Georges and Milford.
Delaware Hams complete a statewide emergency communication test every year, but they normally do so in October. The opportunity to team up with the state for this large-scale exercise convinced Delaware ham radio management that this was a perfect setup for very realistic training.
Training and preparation are essential parts of amateur radio, as pointed out by the American Radio Relay League, aka the National Association for Amateur Radio. The exercise gave the radio amateurs more experience and helped them prepare for a time when they might be called upon to provide communications support in the event of a real disaster.
Amateur radio is a great hobby and a powerful tool for emergency communication. For more information, contact Bill Duveneck at 302-537-4755 or [email protected]